19.05.2009
Lectures/Events
Performance: Documents between Spectator and Observer
Lecture with Barbara Clausen, curator and art critic
Performance: Documents between Spectator and Action
Lecture with Barbara Clausen

Tuesday, May 19, 2009, 7 p.m.

Like no other genre, performance art stands for the liberation of traditional power structures and gender relations in the arts and society at large. The ostensible equilibrium between every day life and art becomes the expression and metaphor of political and emancipatory desires determined by a permutating process of production, representation, and reception. "Documents between Spectator and Action " will discuss historical and contemporary works by Sharon Hayes, Milan Knížák, Adrian Piper, Santiago Sierra, Sanja Iveković, VALIE EXPORT, or Gianni Motti as examples to illustrate the political potential of performance art and its strategies of mediation. The artists discussed share a specific focus on the role mediatization plays in the development of their performances, equally before and after the act. They reflect on a conceptual level how performance art's journey - from 'the event on the street' to 'the image on the wall' - undergoes a series of perspective changes and physical shifts. It is this specific translational displacement from the 'live' to its mediatization that remains a key question in art, performance, and media theory. quality and history inherent to performance art as an artistic strategy. Despite the differences in their approaches, these artists – in full awareness of their own and others' bodies – use social realities and conditions as well as historical facts in their common goal of questioning given structures. Barbara Clausen

Barbara Clausen is a curator and art historian living and working in Vienna and New York.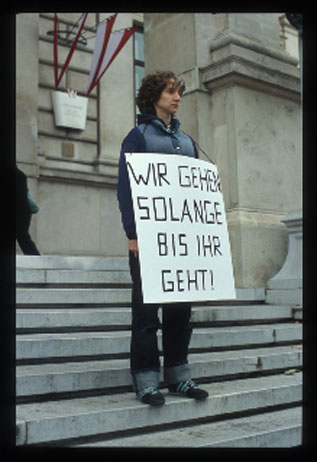 Sharon Hayes, in the near future, Vienna, 2005-2007, performance und media installation