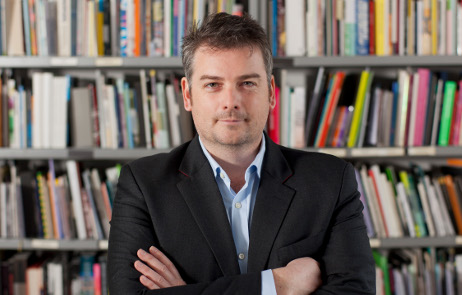 Andrew Phelps
An integrated and aspiring approach for the Salzburger Kunstverein builds upon the legacy and hard work of the organizations' predecessors and founders. In 2014, I agreed a vision for the following years with the board of the Salzburger Kunstverein and I am delighted to be working with these engaged and dynamic individuals, as well as the talented team working here.

It is critical for the Salzburger Kunstverein to be a central hub for contemporary art by international and Austrian artists. The Salzburger Kunstverein continues to be a special breeding ground for art production, new ideas and engaged practices. To do this, we place art practitioners at the core of our program and develop innovative relationships between artists and audiences, with a specific focus on enabling artists to develop their work in new directions in Salzburg.

Our curatorial approach explores all forms of contemporary art, with a focus on new media, film and video installations, conceptual art, and photography. There are also presentations of more traditional practices, such as sculpture and painting, in their most innovative forms today. I feel that the best of contemporary art is found in all genres of art production, and this diversity is reflected in our program.

The development of the Salzburger Kunstverein as a cultural hub necessitates mediation of the program to Salzburg's general public, artists, our members, and national and international art audiences. There is no intention to make a more "populist" program, but rather, we focus on critical explorations by high-caliber artists and topical projects, which are then mediated in a variety of creative forms. A focus on youth and children is also important for our program and its development.

Each year we produce topical, thematic, multi-disciplinary exhibitions as well as monographic and group exhibitions of contemporary artists. Where possible, these exhibitions extend beyond the gallery into public spaces, and include publications with texts contributed by recognized writers in relevant fields. The program also includes co-producing exhibitions with international partners. Creative collaboration also extends to local and national partners, including faculty, students, and cultural organizations.

I see the Künstlerhaus, which houses the Salzburger Kunstverein, as a living organism of diverse practices and cultural production.

I am delighted to be living again in Austria and leading this organization into its next period in a city known worldwide for its cultural complexity and attractions.